Garage Door Springs
Back To Our Services
The spring system is of great importance to any kind of garage door. The amazing and enormous power of the garage door springs ensures the movement of the door. That's why springs are chosen in accordance to the requirements of the door. Their size will determine their power and the heavier the door, the stronger the springs that will be needed! Most heavy doors have a torsion spring installed but they can also have a second torsion spring or a combination of torsion and extension garage door springs. Average doors will open with extension springs but still their size and weight must be taken into consideration when choosing springs. Most springs consist of coils and these coils will either torque or extend and retract. Such movements will release their hidden energy and enable the door's movement.
We provide spring repair immediately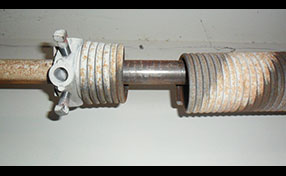 The way garage door springs work is amazing. It's simple but extraordinary and so is their power as they manage to open the heavy weight of doors. Our services are extraordinary as well. Not only does "Garage Door Repair Fountain Hills" have devoted and experienced technicians, we also ensure fast arrival for spring repair. We take care of problems fast. When the springs are ruined the door will hardly open, and if they are broken the door won't open at all. We promise speed so that the problem will be addressed fast and our customers won't run the risk of accidents.
When springs are damaged, they can snap any minute. If they snap and someone stands close by, the force of springs might injure them seriously. That's the basic reason for moving fast when customers need our assistance. The emergency team of Garage Door Repair Fountain Hills will arrive at your home as soon as possible for immediate evaluation of the problem and garage door repair. As specialists in torsion and extension springs repairs, we guarantee immediate solutions. We excel in spring adjustment and make sure the door is balanced. We replace all springs and guarantee safety for all customers. Don't hesitate to call our company if you need our assistance.